The Black Loyalist Heritage Centre & Historical Site 
Open October 31 to May 31 Monday to Friday 9am to 4pm- call 902-875-1310 or 902-875-1293. Regular season begins June 1 to October 15 and the centre is open daily 10am to 5pm.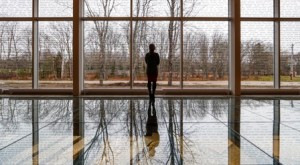 One of Canada's best kept secrets, the largest free Black settlement in the 1780's where people voted with their feet for freedom. This unique historical site is nestled in beautiful Birchtown Bay on the western shores of Shelburne Harbour, the third largest natural harbour in the world.
It's a history few in the region know much about.
CBC Reporter Jon Tattrie looks at whether a new building can help change that.  Click on the link to listen to an audio clip. http://www.cbc.ca/atlanticvoice/2016/02/08/birchtown/
Come and enjoy a guided tour, search for your ancestral roots and learn about these courageous Nova Scotians.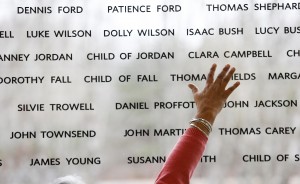 Depending on the weather you may want to bring a picnic lunch and nourish yourself before you begin this extraordinary experience of the old and new.
Climb up the Shaw Turret where we commemorated all Black Loyalist communities as you overlook Birchtown Bay. Enter into the centre's Lindsay Gallery and dive into the multimedia presentation of the Black Loyalist journey from Africa to the US then to Nova Scotia and back to Africa. Explore the virtual copy of the Carlton's Book of Negroes and search for your ancestor who may have experienced part of this incredible journey.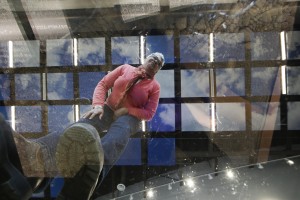 Also explore our amazing archaeological pit which embodies this extraordinary narrative of the past and present. Have fun examining the archaeological artifacts excavated here in Birchtown.
Before you leave us please take the time to create a virtual quilt square that will tell us about your experience and how this story has impacted you and what you have learned.
Please continue to explore our site and visit our historical buildings including the Old School House and Saint Paul's Church where you can view our Bunce Island exhibit and movie, the National Historic Monument that commemorated the 1783 Black Loyalist Landings of Nova Scotia, explore our Heritage Trail and visit the Pit House.
Be prepared to spend some time with us.
Admission is $8/adult; $5/senior (ages 65+); $5/youth age 6-17 and free for children 5 and under.  We also offer a Family Passes for $20 which includes 2 adults and maximum 3 children.
Please contact the Tour Administrator Kaitlyn Wesley at the  administrative office to schedule a group tour or for tours in the off season by calling 902-875-1310. 
To download a PDF of the Black Loyalist Heritage Centre brochure, please click here: BLHC Brochure 2015
UPCOMING EVENTS

African Heritage Month Proclamation February 10th from 10am to 12pm – POSTPONED UNTIL FEBRUARY 24TH DUE TO PENDING SNOW STORM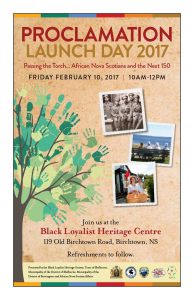 Join us at the Black Loyalist Heritage Centre on Friday, February 24 from 10am to 12pm to celebrate African Heritage Month. We welcome special guest The Honourable Tony Ince, Minister of African Nova Scotian Affairs & Communities, Culture & Heritage.   There will be musical entertainment from our local group, Shelburne Association Supporting Inclusion as well as an artistic skit performed by Louise Delisle. The Municipality of the District of Shelburne, Town of Shelburne, Municipality of Barrington, Town of Clark's Harbour and the Town of Lockeport will share in the reading of the proclamation.  Refreshments served.  All are welcome.
African Heritage Month Luncheon RESCHEDULED for February 27 from 11am to 1pm 
The Black Loyalist Heritage Society is hosting an African Luncheon on Monday, February 27th from 11am to 1pm at the Black Loyalist Heritage Centre, 119 Old Birchtown Road.  Menu will be home-made black eyed peas and rice, biscuits, pineapple curry chicken, dessert served with Ethiopian punch.  Cost is $10/person. Take-out orders available. Pick up only.  We encourage organizations and businesses to pre-order meals by calling 902-875-1310. Pre-orders will be accepted until February 24.
In the event of inclement weather on February 27 the luncheon will be held on February 28.
Celebration 150 – Black Loyalist Voices July 15-16 2017
The Black Loyalist Heritage Society will be hosting a two day festival July 15-16 to celebrate our culture, diversity and the significant contributions of African Nova Scotians as part of the Canada 150 celebrations. The open concept celebration will feature Nova Scotian vendors selling ethnic foods, clothing, arts and crafts. There will be exhibits, readings, theatre and interactive sessions featuring African Nova Scotian artists Reeny Smith, Khalilah Brooks, Shauntay Grant, David Woods, Juanita Peters and Jacob Sampson. There will be musical presentations highlighting past and present winning artists from the African Nova Scotia Music Association.  Sunday will be family day featuring an ecumenical service lead by the AUBA moderator, gospel presentations, drumming, dancing and family fun!
We will continue to post updates on the program so stay tuned!
History on Shelburne Harbour for 2 – The Cooper's Inn
Discover the rich history of Shelburne with this 2 night package. Harbour Package includes two nights at the Cooper's Inn (king or queen accommodation); welcome visit with your hosts between 5&6pm social hour along with a complimentary beverage and full menu breakfast each morning; dinner and beverage at award winning Charlotte Lane Restaurant ($200.00 certificate); 3 hour Harbour Boat Tour with Captain Ken & First Mate Sherri; and 2 passes for three Shelburne Museums.
Tour Ross-Thomson House & Store. See how our Loyalist ancestors lived. Learn about the history of the Shelburne Dory and see one being built and finally peruse the collection of artifacts the museum has collected over the years.
2 passes for the Black Loyalist Heritage Society's Historical Site and Museum in Birchtown.
One of Canada's best kept secrets, the largest free Black settlement in the 1780's where people voted with their feet for freedom. The unique historical site is nestled in Birchtown Bay on the western shore of Shelburne Harbour, the third largest natural harbour in the world.
A copy of the book "King's Bounty: A History of Early Shelburne Nova Scotia" by Marion Robertson.
$749.00 per couple (all taxes included)
Advance booking is required.  Cancellation policy on this package is 7 days.  There is a cancellation fee of $200 as well.
More information can be found at: http://www.thecoopersinn.com/packages.html